Hong Kong protests over booksellers' detentions after Lam Wing-kee accuses China
Comments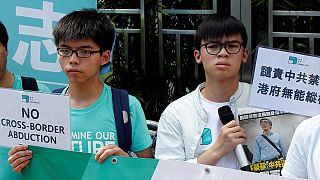 One of five Hong Kong booksellers who disappeared last year has said he was detained for more than eight months by the Chinese authorities and that an apparent confession of "illegal trading" had been forced.
Telling the truth in such dark times is not easy. And Lam Wing-kee's integrity, the values he upholds and his bravery and courage really inspired Hong Kong people
Lam Wing-kee, who returned to Hong Kong from the Chinese mainland earlier this week, told a news conference on Thursday that he had been arrested in the city of Shenzhen last October.
He said he was taken on a long train journey and was then held in a small room and repeatedly interrogated about sales of books banned on the mainland.
"If we remain silent, if I, myself – being the least vulnerable among the five booksellers – remain silent, Hong Kong will become hopeless. It took lots of courage, and two sleepless nights of consideration, for me to decide to share the whole story with you, and tell the whole world that this incident is not only about me nor the bookstore. It's about the core values that the people of Hong Kong need to safeguard. Hong Kong people should not bow down before power," Lam Wing-kee said.
Full transcript of Hong Kong bookseller Lam Wing-kee's press conference https://t.co/OIFK4uB2JSpic.twitter.com/WEleHSJ1KQ

—

SCMP

News (@SCMP_News) June 17, 2016
On Friday the new pro-democracy Demosisto party organised a protest in Hong Kong. Dozens of people marched on China's de facto embassy, condemning the detentions. They threw newspapers with images of the booksellers over the fence.
"Telling the truth in such dark time is not easy. And his (Lam Wing-kee) integrity, the value he upholds and his bravery and courage really inspired Hong Kong people," said Demosisto's chairman Nathan Law.
All but one of the five who were detained have returned from the mainland.
Lam says one, Lee Bo, was abducted from Hong Kong but he reportedly claims he was on the mainland at the time.
Who to believe? HK bookseller Lee Po denies Lam's claims of abduction and passing customer list to mainland agents https://t.co/GnDeg5xAA9

—

SCMP

News (@SCMP_News) June 17, 2016
Amnesty International said in a statement that Lam had "exposed what many have suspected all along: that this was a concerted operation by the Chinese authorities to go after the booksellers".
Two of the men who went missing are EU citizens: Lee Bo is British, Gui Minhai is a Swedish national who disappeared while in Thailand. He remains in Chinese custody.
Causeway Bay Books where the five men worked, published books that were critical of China's leaders including President Xi Jinping.
The Hong Kong government said in a statement that the police were reaching out to Lam and would take appropriate action. The bookseller has said Chinese officials asked him to return to Hong Kong to retrieve records of customers who had ordered banned books from his store – but that he would never return to mainland China.
The disappearances have prompted fears that mainland authorities may be using tactics that erode the "one country, two systems" formula under which Hong Kong has been governed since its return to China from British rule in 1997.
HK's Mr&Mrs artist pays tribute to returned bookseller Lam: https://t.co/Z6jDN4Q0tkpic.twitter.com/CM8bsqflvv

— Tom Grundy (@tomgrundy) June 16, 2016