Egyptair MS804: second flight recorder found
Comments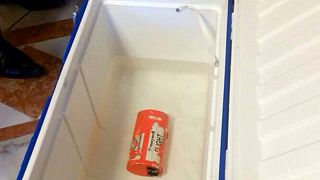 What has happened?
The flight data recorder has been retrieved from the crashed EgyptAir flight MS804.
The cockpit voice recorder has already been recovered.
The passenger plane went down over the Mediterranean last month with the loss of all 66 people on board.
Why is this significant?
The two flight recorders are crucial to explaining what went wrong on the Airbus A320 which crashed early on May 19 on its way from Paris to Cairo.
If intact, the recorders should reveal pilot conversations and any cockpit alarms.
Other clues, like engine noise, should also be audible.
Egyptian investigators will analyse the information over the coming weeks.
Where was it found?
Recovered #EgyptAir black box could unlock the mystery of the #EgyptAir crash: https://t.co/BS4NemPLtY (Photo: epa) pic.twitter.com/XSOz316pIx

—

USA

TODAY

(@USATODAY) June 16, 2016
In the eastern Mediterranean Sea.
The recorder is being preserved in water to prevent oxidisation and will only be opened in controlled conditions.
It is now on its way to Alexandria.
What do aviation experts think?
No explanation for the disaster has been ruled out.
However, current and former avaition officials increasingly believe the cause of the crash lies with the aircraft's technical systems, rather than deliberate sabotage.