Albania and France meet in Marseille
Comments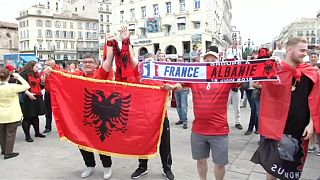 Albania and France meet in Marseille
The scene of violent clashes between English and Russian football fans over the last few days, Marseille is currently a sea of red.
#marseille right now all dressed up in #RedAndBlack for tonight's #FraAlb#alb#Albania#EURO2016#TifozatKuqEzipic.twitter.com/E2PfiK35fm

— AlbiB7 (@AlbiB7) June 15, 2016
Albania and France will meet in the Mediterranean city on Tuesday evening as part of the Euro 2016 championship – and the atmosphere is very different.
There is an obvious police presence, but for the moment, things seem to be good-natured.
"We're expecting a good show, more than anything," said one Albania supporter. "But also a victory for Albania."
"Play as well as possible. No aggression. May the best team win – but that will be Albania!" said another.
French fans
#Marseille Clément d'Antibes est bien là. Et accompagné pour supporter l'Equipe de France ! #FBsportpic.twitter.com/vTwmMQ3Jmi

— France Bleu Provence (@bleuprovence) June 15, 2016
Fans have also gathered outside the French team hotel.
"For me, it's become a tradition to welcome the French team when they're at the hotel," said "superfan" Clement d'Antibes. "Usually the players do a walkabout before the match but with the security situation and the risk, there won't be one. But its not a problem. We're here to cheer on The Blues."
Fans aren't disappointed by the likely no-show.
France is all but guaranteed qualification if they beat Albania, so all they want is a win.