Alleged human-trafficking 'kingpin' extradited to Italy
Comments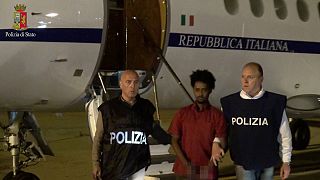 The suspected head of a huge human trafficking ring between Africa and Europe has been extradited to Italy.
Mered Medhanie, known as 'The General', was arrested in Sudan late last month after a year-long hunt.
Italian prosecutors say his capture is a major breakthrough.
''We're not talking about a simple organisation here, but a structured network. They rely on weapons, logistical facilities and vehicles. They're a real criminal organisation with branches all along the migrant route from Central Africa to Scandinavia,'' said Italian prosecutor Geri Ferrara.
The 35-year-old Eritrean national is accused of trafficking thousands of people from North African to Europe.
He is also thought to have arranged the transit of a boat from Libya, which sank near the Italian island of Lampedusa in October 2013.
More than 350 migrants died when that vessel capsized.
It is the first time a suspected trafficking kingpin has been tracked down in Africa and follows a joint Italian and British operation.