Jerusalem Day Flag Parade through Old City passes peacefully
Comments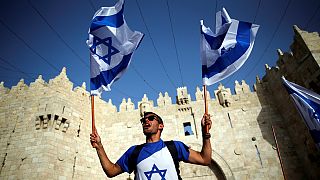 Israeli youths have marched through Jerusalem's Old City for the annual Jerusalem Day Flag Parade. It commemorates the nation's victory in the 1967 Six-Day war, after which Israel took control of the city.
However marchers faced a possible ban on them taking the Damascus Gate into the Muslim Quarter after the non-profit group Ir Amim and former mayoral Arab affairs advisor Amir Cheshin feared it would clash with the start of Ramadan.
"You know, since 1967 Jerusalem has been an open society. Christians, Muslims and Jews are fully able to go through Jerusalem. I think even the idea that the Israeli Supreme Court would say that a Jew is not to walk freely throughout Jerusalem is preposterous, it's ludicrous," said one Jewish man.
The march typically attracts young people and has been a flashpoint for racial insults and vandalism in the past, and the proximity of Ramadan had increased tension in the run-up to the day. But the court allowed it to proceed.
Organisers agreed to end the march through the Arab quarter a quarter-of-an-hour before sunset and the start of Ramadan, the Muslim Holy Month.