Not hot to shop in the eurozone
Comments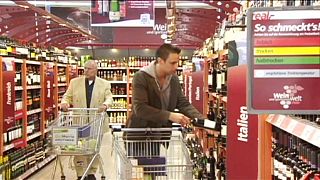 Retail sales in the eurozone were unchanged in April from March.
And compared with April last year growth slowed, according to the European Union's statistics office.
Sales were up 1.4 percent year-on-year, not as good as in March and just half the 2.8 percent growth seen in February.
Germany – the largest economy of the 19 in the euro area – saw a big fall in shoppers, which offset large increases in Spain and France.
Belgium recorded the biggest decrease in retail sales – down 2.3 percent year-on-year in April – in the month following the Brussels attacks.
More food, drinks and tobacco was sold across the eurozone, up 0.5 percent rebounding from a 1.1 percent fall in March.
Sales of non-food products including electronic appliances and clothing remained flat.
Compared to the previous month, sales of automotive fuel in the bloc fell by 0.1 percent.
See the full reporthere
See also:Euronews special report – Fashion Retailers Decide Weather or Not