And also...from a footballing own-goal in Spain to record-breaking dancing grannies
Comments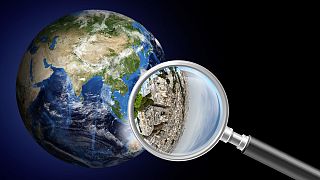 Every Friday journalists from euronews' various language teams choose a selection of stories from Europe and beyond which did not reach the international headlines
Atletico Women's goalkeeper caught celebrating Real's win
Sara Ezquerro, the goalkeeper for Atletico Madrid's B team, was seen celebrating Real Madrid's Champions League victory, which could lead to possible ramifications with her own club, Atletico, who Los Blancos defeated in penalties to lift the 'Undecima'.
Ezquerro was forced to close down her social media accounts after the photo of her celebrating the triumphs of Atletico's city rivals began to surface.
The goalkeeper was tagged in the photo on social media by her friend Maria Calvo, a former teammate at Los Rojiblancos and also a Real supporter, and the insults started to flood in.
The shot stopper had helped lead the Atletico Women's B team back to the second division this season. Atletico Madrid Women's teams continue to be one of the most followed in all of Europe.
Sara Ezquerro (portera del Atleti ) fue descubierta en la celebración de la undécima. Hinchas piden la expulsión. pic.twitter.com/vHfnEMW0rn

— Notas futboleras (@FutbolerasNotas) May 30, 2016
---
Spain: Spaniards still holding on to almost €1.7 bn worth of pesetas
Whether under the mattress or in the coffee jar, Spaniards are holding on to €1.7 bn worth of pesetas, the currency that disappeared when the euro was introduced 12 years ago.
According to the Bank of Spain there are €864m (£683m) in notes and €805m in coins that have yet to be cashed-in.
Last year the bank exchanged 2.5 bn pesetas for €15m, about €12m of it in notes and the rest in coins.
When the euro was introduced on 1 January 2002, the Spanish government allowed both currencies to circulate for three months, after which pesetas could be exchanged for euros at any bank up until the end of June of that year.
Thereafter, the exchange could only be made via the central bank.
---
SafeBeep, a made-in Greece app, keeps a protective eye on family, friends
For just one euro, a new mobile application allows you to stay connected with those closest to you so that you can check where they are every moment of the day and quickly find out how to reach them in case of an accident or emergency.
SafeBeep, the first mobile app to be launched by new Greek company Innovative Applications, made its debut in Greece in April through the Vodafone network and already has over 5,000 users.
The idea was conceived and developed by an Athenian programmer with four children who wanted to ease his worries about where they were and whether they were OK when they were not with him. However, when Vassilis Hatzatoglou, at the time working at a major software firm, shared his concept with a few colleagues, it was instantly shot down. "It can't be done. It's a waste of time," they told him.
SafeBeep: Μία εφαρμογή, εργαλείο προστασίας του κατόχου της [Video]: Techgear.gr
[Δ.Τ.] H Vodafone σε συνεργα… https://t.co/7w1hT2cD7s

— TechNewsinGreek (@tehcnewsgr) May 13, 2016
India:Postman will deliver Ganges water to your doorstep
The Modi government will soon deliver holy 'Gangajal' (water from Ganges river) at your doorstep, using the neighbourhood postman. The idea is to "address the cultural under-pinnings of India", as cabinet minster Ravi Shankar Prasad put it, and aims at using the vast postal network to transport the holy water across the length and breadth of the country.
"We do have the wherewithal to undertake this kind of an initiative. Work on this will begin soon and we intend to provide Ganga water from Haridwar and Rishikesh," Prasad said, as he spoke about the new initiatives being planned by the Modi government. Apart from being the minister for telecom and IT, Prasad is also responsible for the postal department. "There is a huge market in the country for Gangajal," he says.
Now you can get a splash of Gangajal by posthttps://t.co/gxv5JJ20B9pic.twitter.com/fSQ1lvwikm

— India Today (@IndiaToday) May 31, 2016
---
Rome calls on companies and the rich to adopt crumbling ancient sites
Rome has issued a €500m (£380m) SOS to companies, wealthy philanthropists and its own citizens to help restore many of the Italian capital's historic sites and prevent others from falling into ruin.
The Roman Forum, the Circus Maximus and the walls, aqueducts and sewerage system of what was once the most powerful city on Earth have all been earmarked as needing help ranging from a relatively minor clean up to full-blown structural works.
Saddled with debts of some €12bn, Rome cannot afford to do it on its own.
But Claudio Parisi Presicce, the city cultural superintendent, said he believed the city could call in some of the reserves of goodwill given Rome's central role in the construction of Western civilisation.
Want to adopt a monument in Rome? Here are the costs! Direct from the city of Rome! Thanks fdemilio</a> <a href="https://t.co/B3bpX5vyU4">pic.twitter.com/B3bpX5vyU4</a></p>&mdash; Darius Arya (DariusAryaDigs) May 25, 2016
---
Serial thief, 86, nabbed in Genoa
Police on Tuesday stopped an 86-year-old man after video footage showed him breaking into and stealing from two cars in Genoa's Pegli district.
The serial thief, who has been in and out of prison throughout his adult life, reportedly told police that he "didn't know how to do anything else".
"I steal a few objects in cars and then I fence them, it used to be car stereos and audio cassettes, now they are CDs and battery chargers, I'm not hurting anyone, really," he said.
"And then, at my age, they don't put you in jail any more".
---
Germany: Horror film instead of kid's programme
German public television has broadcast a horror film instead of a comic series for kids.
Sunday morning, 6am – small early risers in Germany are in front of their TV, expecting the kids programme, their parents are sleeping a bit longer…but for half an hour TV channel ZDF broadcasts "John Carpenter's Halloween" (German title "Halloween- the Night of Horrors) instead of the series "Coco the curious monkey".
Ιn the low budget horror movie from 1978, a murderer gets out of a psychiatric hospital and kills three teenagers. Coco the monkey, meanwhile, was supposed to build a mud castle and take pictures of it.
After half an hour the mistake was discovered and the program was changed, a spokesperson said on Monday. They had received a couple of complaints from the audience.
---
Chinese state media push rap song in praise of Karl Marx
The latest hot topic for Chinese rappers is a bearded 19th century German philosopher who wrote a book called "The Communist Manifesto."
Chinese state media are promoting a new rap song praising Karl Marx, in the latest attempt to leverage popular culture in support of the ruling Communist Party.
Entitled "Marx is a post-90"– China's version of a millennial – the song extols the communist thought leader's supposed coolness with lyrics such as, "Life is full of little accidents, then one day I discovered how awesome he was."
"I saw my faith, don't even ask why," it continues. "You are my Venus, my dear Marx."
The website of the party newspaper "People's Daily" said the song proves how Marx continues to appeal to young people and will "never completely go out of style."
Listen to the song:
---
China's dancing grannies have taken their moves to the record books
The Guinness World Records says more than 31,000 Chinese participants have set a record for mass plaza dancing in multiple locations.
Around 31,697 people in Beijing, Shanghai and four other cities set the new record on Saturday by performing choreographed dance moves together for more than five minutes, Guinness said on its website.
Participants in Beijing posed with Guinness representatives in front of the city's iconic Bird's Nest stadium.
Generally middle-aged and elderly women, such dancers are a common site in parks, plazas and other public spaces in Chinese cities. While considered a healthy way to exercise and socialize, the performances have sometimes drawn criticism from those living nearby over the loud music accompanying the moves.
Getting in rhythm: Over 31,000 in China set dance record: China's dancing grannies have… https://t.co/cybtAg8Ymapic.twitter.com/9rAC7i2nWZ

— Welcome To Miami (@MiamiBestOf) May 24, 2016
Watch the video:
Sources :