Syria: civilian casualties rise as air strikes hit Aleppo
Comments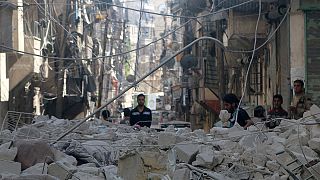 Videos posted online reportedly show the aftermath of air strikes in the Syrian city of Aleppo. In them buildings are reduced to dust and dead and wounded people are pulled from the rubble.
According the the Syrian Observatory of Human Rights, government forces have resumed air strikes on rebel-held positions killing civilians, among them children.
In a separate attack, the Turkish military claims to have killed at least 28 ISIL militants in shelling just north of Aleppo on Sunday. It comes in retaliation to attacks on a Turkish border town on Friday.
Aleppo's northern countryside has become the theatre of several battles between multiple warring sides in the five-year-old conflict.
Prospects for peace were dealt a fresh blow after the opposition's main negotiator quit.
Mohammed Alloush described peace talks as a waste of time, saying they failed to bring a political deal or helped civilians in besieged areas.