Venezuela lawmakers reject state of emergency decree
Comments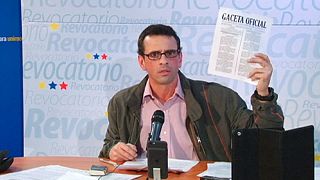 Lawmakers reject state of emergency decree
Opposition says its unconstitutional
Calls grow for more street protests
Venezuela's opposition-controlled National Assembly has rejected President Nicolas Maduro's state of emergency decree claiming it will worsen the country's political crisis.
If Maduro wants to apply this decree, then he should prepare the tanks for war.

Venezuelan opposition leader
The measures which came into effect Monday, give Maduro control over security and energy.
Venezuela opposition leader Capriles says army must choose https://t.co/A8DGahwBJv

— csdickey (@csdickey) May 18, 2016
Opposition leader Henrique Capriles has urged the people to ignore the decree:
"This is an unconstitutional decree and Maduro is not above the constitution. No minister is above the constitution. This decree here could be used to do anything. If Maduro wants to apply this decree, then he should prepare the tanks for war."
Maduro support
President Maduro still enjoys the loyalty of a core among the population who adored his charismatic predecessor Chavez for tapping an oil bonanza to provide the poor with housing and pensions.
After the parliamentary vote he criticised lawmakers and claimed his state of emergency decree is needed to see off threats to the politically divided country.
"The national assembly has lost political validity, it is a matter of time before it disappears, that is what I believe."
Economic meltdown
But in Venezuela large swathes of the population are suffering. Hyperinflation, food and medicine shortages along with crime and corruption are common place.
The crisis in Venezuela is deepening, as its president extended a state of emergency. Here's what you need to know: https://t.co/go3aWPAeno

— AJ+ (@ajplus) May 16, 2016
Last week protest marches turned violent as the government tried to quash attempts to call a referendum to oust the president. More protests are planned over the next few days.