Jacques Wagner, a former government minister in Brazil is confident Dilma Rousseff can return to power
Comments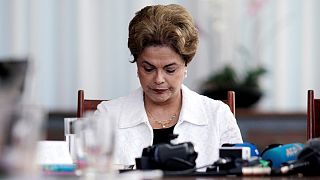 Brazil is experiencing an unprecedented moment in its history with the removal of the elected President Dilma Rousseff. Her replacement vice-president Michel Temer will be head of state during the impeachment process and maybe even longer.
Jacques Wagner was for a short time Dilma Rousseff's right-hand man. The former chief of staff who left government to make way for Lula.
Michel Santos spoke to him about the impeachment process and the future.
Michel Santos "Jacques Wagner you have said it was a coup in Brazil"
Jacques Wagner: "Indeed, what we are living through in Brazil is a coup. I call it a "coup" because they used the constitutional provision of impeachment to make an indirect election. The world saw the session in the lower chamber – the Chamber of Deputies – and the admissibility session in the Senate and none or very few spoke of crime, because the president has committed no crime.
'So they used a constitutional provision for something that is sacred in democracy – which is the delegation by vote – to usurp the power of an elected president with 54 million votes.
'Since the end of the election they were looking all the time for some way to try to cancel it and have a kind of a third round of the election. They questioned the polls, then they questioned the legality of the electoral campaign of the president in the High Court and during 18 months they created this impeachment fantasy, looking for a reason that didn't exist and continues not to exist to strip her of power."
Euronews: "Are there geostrategic interests behind this? Are there any external forces behind this so called "coup"?"
Jacques Wagner: "Undoubtedly conservative interests have aligned to this change, it is a strategy that has been happening in some countries, by using ethics, often artificially to try to take power from governments that have the popular legitimacy."
Euronews: "Who are those conservative movements? Are there any state or states in particular?"
Jacques Wagner: "Clearly there are conservative forces in the United States, Europe and even in Asia, which are interested in another type of government in Latin American as a whole, because here in Latin America we have had a rise in popular governments.
'So this systematic attack has been made. So I prefer to characterise conservative sectors of the financial market, articulated in the whole world against social movements, against the popular and progressive character of governments."
Euronews: "Will it be possible to reverse the situation in the Senate?"
Jacques Wagner: "Yes It is possible to reverse the situation in the Senate, I have no doubt that it is possible to reverse it. They only had 55 votes on the admissibility if we win two of their 55 votes, the impeachment process will be stopped, and we already have 22… 24 votes – very secure votes I think.
'So now during the exercise of the interim mandate many contradictions will emerge. I am sure that with the social movements on the streets plus the movement of the Congress we have everything to build a victory for democracy and return to her the mandate."
Euronews: "Several countries and organisations from South America reacted negatively to the removal of Dilma. Do you believe that the European Union should have the same attitude?"
Jacques Wagner: "I believe that all democrats, from the European Union and the whole world of course, have to worry about countries like Brazil – which is one of the largest democracies in the Western world – when a process is not transparent, when an impeachment process is being manufactured, I believe that is of concern to all. And internally in Brazil we will continue the resistance and we count on international solidarity."