When he was on his way to pick up his wife at the airport in London, he received a phone call from Tehran. A phone call which was the first step in Nazanin's story.
The husband of a British-Iranian woman is pleading for her release following her arrest in Iran last month.
The 23-month-old daughter of the couple, who live in London, is also unable to leave Iran after her British passport was confiscated.
Richard Ratcliffe claims his wife, Nazanin Zaghari-Ratcliffe, has been held by Iranian Revolutionary Guards in an unknown location in solitary confinement and without charge since being detained at Tehran's Iman-Khomeini airport on April 3.
She was transferred from Tehran, where her family lives, to a facility 1,000 kilometers away in Kerman Province. Meanwhile the couple's toddler daughter Gabriella, is staying with grandparents in Tehran.
When Ratcliffe was on his way to pick up his wife at the airport in London, he received a phone call from Tehran. A phone call which was the first step in Nazanin's story, which has only been made public after more than a month of delay.
"I was going to the pick her up at the airport and her brother telephoned me to say 'don't worry but there is a problem with the flight' and she should be on a later flight."
"My first understanding was there was a passport problem and they would catch her a later flight."
But in fact she had already been arrested a few hours earlier.
"Nazanin's family had gone to say goodbye at the airport and of course Gabriella, the baby, was given back to the grandmother."
After 24 hours her family in Tehran hadn't heard anything, so they went back to the airport to ask what had happened to her but "No-one gave them an answer and no-one knew."
Ratcliffe has created a petition addressed to UK prime minister David Cameron and Iran's Supreme Leader Ali Khomenei, calling for his wife's release. As of May 10, the petition had more than 57,000 signatories.
Zaghari-Ratcliffe, who moved to the UK in 2007 and got a Masters degree in Communications Management, had taken her daughter to Iran to visit family. Several previous visits to Iran had passed without incident, he says.
"The last trip before that was last year in May for her sister's wedding. I was in Iran last year and we had a wedding there as well. This time was the fourth time that she has been with the baby and traveled to Iran since the child was born in 2014."
Zaghari-Ratcliffe, 37, works as a program coordinator for the Thomson Reuters Foundation, a charitable organisation with projects around the world but not in Iran.
Her husband says no-one in the family can understand the arrest:
"There is no charge and nothing is formal. All we've had was a phone call from the Revolutionary Guard to say this is an investigation related to the national security and that the investigation may last two or three months."
"I can call Nazanin's brother and I can talk to Gabriella via Skype which is still important to her. That's the main contact."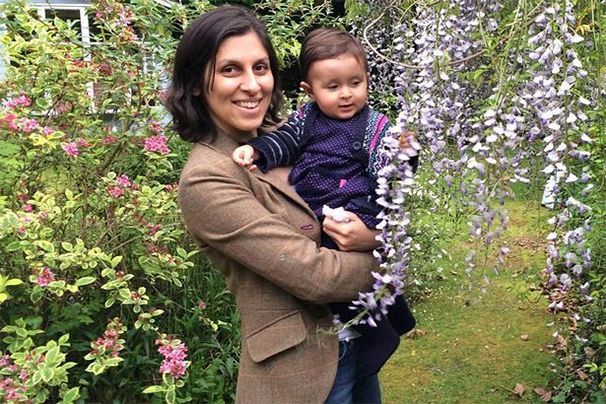 "The British embassy in Tehran knows and they are certainly trying. All that we achieved so far is to confirm that, yes indeed, they are aware of this case. But I haven't been able to confirm what the charges are," says Ratcliffe.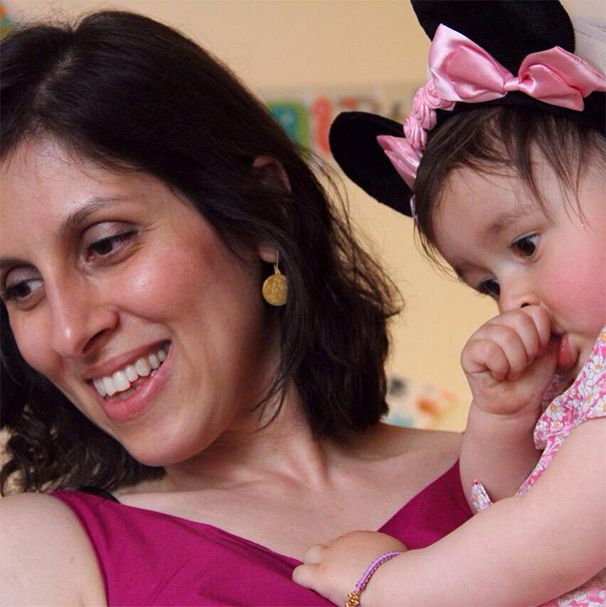 It is less than one year since the British embassy reopened in the Iranian capital, an event seen as a sign of political reconciliation between Iran and Europe in a new diplomatic era after Iran's nuclear deal with the West.
Nazanin and her young baby are not the only non-Iranian nationals who are in jail in Iran without any clear explanation from the authorities.
The Iranian-American head of strategic planning at Dubai-based Crescent Petroleum, Siamak Namazi, was arrested on October 15 last year in Tehran. His Father, Baquer Namazi, 80 who also is a dual American-Iranian citizen, was arrested a week later.
The most recent case was the arrest of a former French embassy employee in Tehran. 58-year-old French-Iranian Nazak Afshar was arrested at Tehran's airport in March and sentenced to six years in jail. She had previously faced trial in 2009 on charges of spying and acting against Iran's national security but no verdict was handed down and Afshar was freed after intervention from the French government.