Trump and Clinton register big wins in northeast primaries
Comments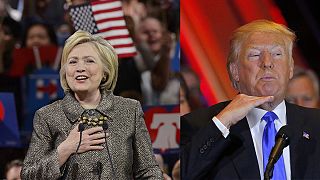 Trump rolls up victories in all five primaries
Clinton clinches four
Rivals still refusing to give up chase for delegates
Donald Trump has swept the board of all five Super Tuesday primaries, boosting his chances of avoiding a contested convention when the Republican Party meets in Cleveland in July to pick its presidential nominee.
In whats being viewed as a major show of strength, the billionaire left his rivals Ted Cruz and John Kasich trailing in his wake.
Trump rolled up victories over Cruz and Kasich in Pennsylvania, Maryland, Connecticut, Rhode Island and Delaware, with a margin of victory rivaling that in his home state of New York a week ago.
"I consider myself the presumptive nominee, absolutely…Honestly, Senator Cruz and Governor Kasich should really get out of the race."
Thank you Delaware! #Trump2016pic.twitter.com/FeXThmUWuo

— Donald J. Trump (@realDonaldTrump) April 27, 2016
The Republican race will next week shift to Indiana, a more conservative state than the primaries in the north-east where Cruz hopes to pick up more delegates than he has over the past week.
Democratic unity?
Democratic front-runner Hillary Clinton won four out of the five northeastern states adding pressure on her rival Bernie Sanders to quit or ease criticism of her. In her victory speech the former secretary of state spoke of the need for unity.
"Whether you support Senator Sanders or you support me, there's much more that unites us than divides us."
Clinton surges closer to nomination: "We will unify our party to win this election" https://t.co/TcCQhKyHS5pic.twitter.com/etZWyjJu73

— Chicago Tribune (@chicagotribune) April 27, 2016
Although pundits see Sanders as having no possible path to victory, he's not showing any signs of leaving the race after taking the surprise win of Rhode Island.
Instead, he envisions a battle at the Democratic National Convention in Philadelphia in an effort to ensure the party platform embraces such policy goals as the European-style government-run health care system that Clinton has rejected as unfeasible.