UN World Food Programme steps up aid to Ecuador
Comments
By
Euronews
with
United Nations, World Food Programme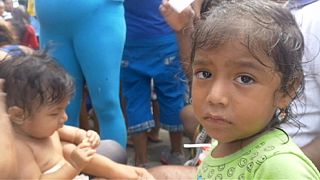 The United Nations World Food Programme (WFP) is stepping up assistance to Ecuador's most vulnerable areas following last week's (April 16) devastating magnitude-7.8 earthquake.
More than 600 people have died, some 7,000 are injured and over 500,000 are reportedly in need of humanitarian relief.
The WFP is to boost aid to more than 260,000 people, as part of a three-month emergency action-plan.
Food kits, commodity vouchers and, where possible, cash-based transfers will be provided, for those most in need.
Just 72 hours after the #EcuadorEarthquake, WFP is providing vulnerable families much-needed food & supplies. pic.twitter.com/CY1hC8iIet

— World Food Programme (@WFP) April 21, 2016
Spokesperson, Alejandro Chicheri, was in Manta, one of the worst-affected areas.
"We are today in Manta, the epicentre of the disaster, where the government of Ecuador together with Ecuadorian army and the World Food Programme, we are trying to assist the most vulnerable areas, we are focusing now mainly in shelters and hospitals and we expect to reach hundreds of thousands of people in the following weeks, there is still so much to do."
More than 700 aftershocks have been felt since Saturday (April 16) and, officials predict, they are likely to continue for weeks to come.
#EcuadorEarthquake: Latest#AccessConstraints Map for critical operational planning https://t.co/sLXkCUP4Dtpic.twitter.com/q5bx0whLWd

— Logistics Cluster (@logcluster) April 21, 2016