Think big, think hybrid at the Beijing auto show
Comments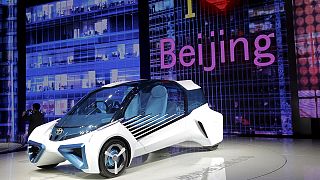 Think big, think hybrid, the watchwords for global carmakers as the Beijing auto show kicks off.
China remains the world's fastest growing sales market which makes it crucial for manufacturers as they fight for market share.
Even though sales weakened a bit last year along with the economy, they rose by 4.7 percent.
Hybrids are particularly popular as the government has tightened restrictions on emissions and introduced incentives for fuel-efficient cars.
Yale Zhang, the Managing Director of Shanghai-based research firm Auto Foresight, explained the main trends: "The Beijing auto show this year definitely will feature two topics – one is new energy [alternative fuel] vehicles, another is car connection or telematics or even smart cars. Of course, at the same time, every carmaker tries to launch more SUVs."
SUVs, or sport utility vehicles, are popular because the poor quality of China's roads and high level of accidents mean drivers prefer bigger, tougher vehicles.
The China Association of Automobile Manufacturers says sales of SUVs increase by 52.4 percent last year and the carmakers at Beijing as counting on selling more to the 800,000 visitors to the auto show.
As Auto Foresight's Yale Zhang pointed out, the large number make it more attractive to carmakers: "Almost every year, I think, this show gets more audiences. Definitely now it is the world's largest. But more importantly there will be more and more new cars to make here their global debut at Beijing auto show, but still not as more (many) as the Geneva or Paris auto show, but it is definitely getting the biggest in Asia now."
There are around 2,000 exhibitors from 14 countries at the Beijing Motor Show, which runs from 25 April until 4 May.