Volkswagen reaches deal over emissions scandal for drivers in United States
Comments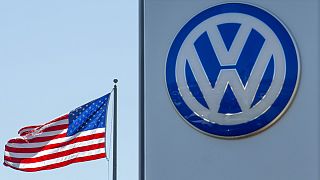 Volkswagen has reached a deal to compensate drivers in the United States over its emissions scandal.
Last september the car manufacturer was forced to admit it had used secret software in its cars to cheat emissions tests.
It had been given until Thursday to come up with a compensation package in principle. The final details will be announced in June.
Lawyer for the plaintiffs David Boies said he hoped Volkswagen owners would be happy with the deal: "I hope they'll be pleased with what they see ultimately, but they'll get a chance to review it and, as the judge indicated, once they get a chance to review the final document, he's going to listen to all points of view before he approves it."
The deal, which would involve buying back and fixing cars as well as compensation for consumers could cost Volkswagen more than $10 billion (8.88 billion euros).
Volkswagen lawyer Robert Giuffra said the company was "working really hard to try to get this resolved and to try and put this behind the company and that's what we're focused on right now".
The spotlight will now be on Europe where lawyers say they will fight for the same deal. European drivers have been offered no compensation, just a promise to have the software device removed.