Kuwait oil workers strike buoys crude prices
Comments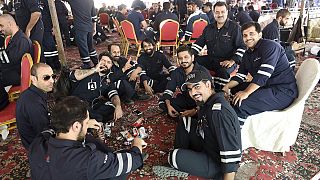 Oil prices are being supported by a strike by oil workers in Kuwait.
The industrial action, which started on Sunday, has offset an expected price slump following the failure by major oil producers to agree to freeze output levels.
Kuwait's crude production has nearly halved as thousands of employees walked out in protest against planned cuts in pay and benefits.
Saif Mohammed al-Qahtani, the head of the Oil and Petrochemcial Industries Workers Confederation, said: "We don't want to strike, we have no desire for it. We have been forced to do this. [We feel] as if we have been pushed towards this strike by third parties. We are just trying to keep what we already have, and we're not demanding anything extra."
Negotiations are planned but could take as long as a couple of weeks to bear fruit.
The workers say they are frustrated. One woman employee explained: "We don't want to harm the national economy, exactly the opposite. We are working for the benefit of Kuwait. We care about the interests of Kuwait. They're talking about some privatisation of oil facilities, the ordinary people won't benefit from that, just businesses."
Kuwait has managed to boost output by drafting in workers from the power and water ministry, and according to one local media report foreign workers from Saudi Arabia and Bahrain could be used.
#BREAKING: Brent crude #oil rises above pre #DohaTalks level, up 2% to $43.76 as #Kuwait strike supports pic.twitter.com/WuGRDE0HK2

— Javier Blas (@JavierBlas2) April 19, 2016