Ukraine jails Russian 'servicemen' for terrorist attack in restive east
Comments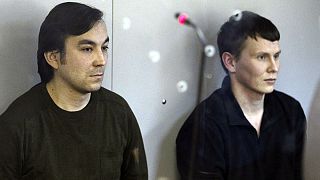 The most tense dispute between Moscow and West in decades has been stepped up a notch.
A court in Kyiv has sentenced two Russians to 14 years each in prison for "a terrorist attack" and taking part in the "aggressive war" in eastern Ukraine.
"I have impression that we did our job very well," Public Prosecutor Ihor Nymchenko told the press.
The court's decision will come into effect once the appeal period set by the judge has expired.
Alexander Alexandrov and Yevgeny Yerofeyev were found to have been serving soldiers in the Russian army's GRU intelligence wing when they were captured in the restive Luhansk region of Ukraine last May.
The two Russians initially admitted to being serving officers, but later retracted their statements, claiming they were made under duress. This meant the claims were able to be dismissed in court.
Russia denies sending forces to assist the rebels. It says the pair had quit their unit before heading to Ukraine to take part in the fighting on their own initiative.
Controversy
In March Yuri Grabovsky, who was acting as Alexandrov's defence lawyer, was kidnapped, drugged and killed. Before dying, he was forced to make a video in which he said it had been a mistake to take on the case.
Alexandrov's new lawyer made a statement following the verdict.
"The sentence has been announced," said Alexandrov's lawyer. "At the moment, I do not have a copy of the sentence. And what's more, my client does not have a translated copy. We will talk about a possible appeal after we receive the text and will consider all the perspectives of an appeal."
Prisoner exchange?
The men are unlikely to serve their sentences to term. A prisoner swap for Ukrainian pilot Nadiya Savchenko is widely anticipated. Last month, a Russian court jailed the volunteer fighter for 22 years for directing an artillery attack that killed two Russians in eastern Ukraine.
Savchenko, who is regarded as a hero in Ukraine, is currently on hunger strike in a detention facility in Russia. Her condition is has been labelled near critical.
According to Interfax news agency, Russian President Vladimir Putin and his Ukrainian counterpart Petro Poroshenko discussed both cases in a phone call on the day of the verdict.