Ukraine finds two Russian servicemen guilty of "terrorism"
Comments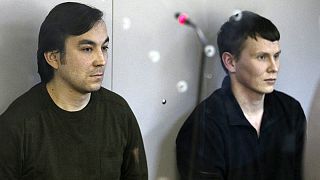 A Ukrainian court on Monday sentenced two Russian servicemen, captured in Ukrainian territory last May, to 14 years in prison on charges relating to their involvement in the pro-Russian separatist conflict in eastern Ukraine.
Russia denies sending troops to help rebel fighters and says Alexander Alexandrov and his commander, Captain Yevgeny Yerofeyev, had quit their special forces unit to take part in the fighting on their own initiative.
Ahead of the court session, Yerofeyev's lawyer said the verdict was a foregone conclusion because of Ukraine's wish to exchange the servicemen for Ukrainians detained in Russia, including pilot Nadezhda Savchenko.
The men, who have found themselves pawns in the deepest confrontation between Moscow and the West since the Cold War, were found guilty of preparing an "act of terror" and illegally crossing into occupied Ukrainian territory, among other charges.
The soldiers' lawyers said they had not yet decided whether to appeal the verdict.
Their conviction follows the sentencing of Savchenko to 22 years in a Russian prison in March – a ruling the United States called a "blatant disregard for the principles of justice".
Savchenko, 34, has become a symbol of the deep division between the one-time allies following Ukraine's pivot towards Europe. She is a national hero in Ukraine, but many in Russia see her as a Ukrainian nationalist with the blood of civilians on her hands.
It is not clear if Ukraine will be able to bring her back to Ukraine in exchange for handing over the captured Russians. Last week Russian President Vladimir Putin said the Kremlin was in touch with Ukraine's leaders on the issue of Savchenko, but "it's better not to get ahead of ourselves".
Source: Reuters