Polish pro-choice protesters rally against abortion ban
Comments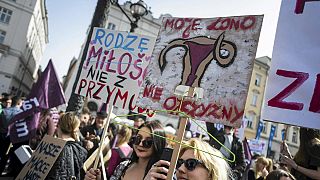 Thousands of pro-choice supporters in Poland have held a rally outside parliament. It came as the leader of the country's ruling party backed a call by Polish Catholic bishops for a full ban on pregnancy terminations.
Poland already has one of the most restrictive abortion laws in the European Union, but the Church wants to tighten legislation even further.
Poland currently allows terminating pregnancy only at an early stage and when it threatens the life or health of the mother, when the baby is likely to be born permanently handicapped or when pregnancy originates from a crime, for example rape or incest.
The Law and Justice Party (PiS) also plans to end state funding for in-vitro fertilization (IVF) and reinstate a prescription requirement for "morning after" emergency contraceptive pills.
Thousands Rally in Poland Against Proposed Church-Inspired Abortion Ban: Thousands attended a pro-choice rally… https://t.co/yL2vQR0ikL

— Poland News Links (@dlpolandnews) April 3, 2016