Rosneft is 'coping' with low oil price, makes investment pledge
Comments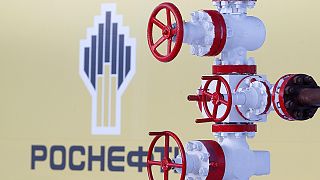 Despite weak oil prices Russian energy giant Rosneft has pledged to invest more – around one trillion roubles (13 billion euros) annually until 2018.
For 2016 that is a 30 percent increase on last year.
Rosneft's Chief Executive Igor Sechin said the company, the world's biggest listed firm in terms of output, is "coping" with the recent price volatility.
He assured Russia's President Vladimir Putin that the investment programme will mean Rosneft can honour its long-term supply deals.
Some analysts have expressed concern about a decline in output due to maturing fields in western Siberia, which produce more than half of Russia's oil.
Rosneft said it plans to ramp up drilling at Yuganskneftegaz, a subsidiary of defunct Yukos which Rosneft now owns. Yuganskneftegaz is its largest oil producing unit.
Rosneft did not provide a breakdown of its oil and natural gas production for the last year but did say it had increased hydrocarbon production by 1.0 percent to 254 million tonnes of oil equivalent last year.