Brazil: Major blow for Rousseff as PMDB quits coalition
Comments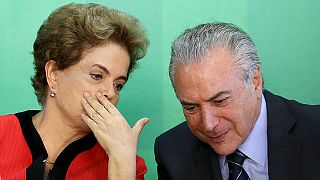 Brazil's largest party said on Tuesday that it is quitting President Dilma Rousseff's governing coalition and pulling its members from her government, a departure that strikes a serious blow to her chances of surviving in office.
The Brazilian Democratic Movement Party (PMDB) decided at a leadership meeting that its six remaining ministers in Rousseff's Cabinet and all other party members with government appointments must resign or face ethics proceedings.
The PMDB has 69 members in the 513-member Chamber of Deputies, the lower house of parliament.
The departure from the government of the PMDB sharply increases the odds of impeachment proceedings against Rousseff going forward, as she needs the support of at least a third of Chamber Deputies to block them.
Roussef is fighting moves to impeach her over allegations that she manipulated Brazil's accounts and had links to the corruption scandal surrounding oil company Petrobras.
If she were to be impeached, that would put Vice President Michel Temer of the PMDB in the presidental seat.
Rousseff insists there is no legal basis for impeachment.
Brazil President Rousseff's coalition collapses as impeachment looms https://t.co/KHCaYPH0ecpic.twitter.com/Ypb8gHXQEN

—

AFP

news agency (@AFP) March 29, 2016
Former President Lula da Silva lept to the president's defence on Monday evening, saying: "Allow this woman to have the tranquility to govern this country. Allow her to have time to think in this country and let her be judged when her term is over."
Rousseff was da Silva's handpicked successor.