North Korea 'to test nuclear warhead soon', says Kim Jong Un
Comments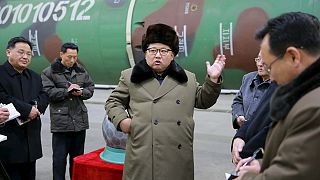 North Korean leader Kim Jong Un has said his country will soon conduct a nuclear warhead test and test launch ballistic missiles capable of carrying nuclear warheads, the official KCNA news agency has reported.
The agency said that the tests would "be conducted in a short time to further enhance the reliance of nuclear attack capability", and that Kim had "instructed the relevant section to make prearrangement for them to the last detail".
Recently Pyongyang has been issuing belligerent statements almost daily, after coming under new United Nations sanctions.
Last month the UN Security Council approved tightened measures against North Korea after a nuclear test in January and the launch of a long-range rocket last month.
US and South Korean experts have said the general consensus was that the North had not yet succesfully miniaturised a nuclear warhead to be mounted on an intercontinental ballistic missile.
Last week however, Kim said that his country had indeed achieved that step.
Western experts also believe that there have been no tests to proved it has mastered the re-entry technology needed to bring a payload back into the atmosphere.
Tensions are high on the Korean peninsula as South Korean and US troops stage annual military exercises that Seoul has described as the largest ever.