EU and Cuba normalise relations ahead of historic Obama visit
Comments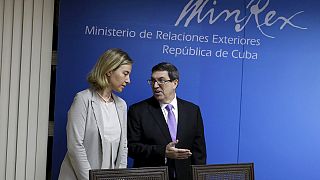 Just days before President Obama visits Cuba, the European Union has normalised relations
with the Communist-run island.
Hosted by President Raul Castro in Havana, EU foreign policy chief Federica Mogherini oversaw the signing of the deal on Friday.
It brings Cuba further into the international fold, paving the way for full economic cooperation with the 28-member bloc.
A human rights dialogue will also be maintained – all a far cry from past tension over Cuba's jailing of dissidents.
Three hours meeting between @FedericaMog and President Raul Castro after the announcement of the #EU/Cuba agreement pic.twitter.com/GPuWK2kWg0

— Sabrina Bellosi (@sabellosi) 11 mars 2016
The pact adds to Cuba's rapidly thawing relations with the West, marked by its restoration of diplomatic ties with the United States after five decades of Cold War hostility.
President Obama's visit to Cuba this month will be the first by a US president in nearly 90 years.
But even as he prepares to unveil measures next week to chip away at decades-old restrictions on trade and travel to Cuba, the longstanding US economic embargo remains in place.
Obama, a Democrat, has called for it to be lifted but that can only be done by the US Congress which is controlled by Republicans, who have made clear they will not act.
Obama's Republican critics have accused him of giving up too much for too little from the Cuban government and of playing down human rights concerns to pursue rapprochement with Cuba, which began in December 2014 and is now seen as a major piece of his foreign policy legacy.
Obama trip to Cuba shows move away from focus on dissidents (@ARodriguezAP, @mweissenstein, @joshledermanAP): https://t.co/pzu1PCEkGo

— The Associated Press (@AP) 11 mars 2016
White House officials have countered that the outreach to Cuba is aimed at helping ordinary Cubans while opening up commercial opportunities for Americans.