Berlin's annual travel fair ITB overshadowed by security fears
Comments
By
Euronews
with
Reuters, Sebastian Saam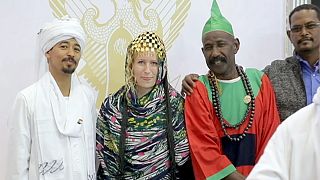 Berlin's annual travel fair ITB is underway, but overshadowed by security fears.
Airlines, tour operators, hoteliers and travel search companies report more caution than usual in bookings this year.
Though the event's organisers insist the industry is in good health and the event is still relevant.
ITB spokesperson Astrid Zand told euronews: "The internet is certainly changing the world, but for doing business personal contact is still crucial. So something like this, where everyone gets together once a year, looks each other in the eye and does business, won't be replaced by anything else anytime soon."
That said, digital is increasingly important and offers new challenges, as the boss of one chain, which operates some 200 hotels around Europe explained.
Thomas Edelkamp is chief executive of Romantik Hotels+Restaurants: "At Romantik Hotels we've developed a whole variety of different online tools that help our hotels with the growing digital demand. They also make it easier for our clients to find out about us in different ways, to see our offers, and, of course, to book rooms."
For overseas destinations like Peru, ITB is a major showcase so that potential visitors can discover the South American country has more than just Machu Pichu.
Sandra Doig Alberdi, the incoming Tourism Deputy Director for Peru, said Europe is one of their prime targets for visitors: "In the case of Europe, we would like to make sure that people from Germany, Spain or Italy know that Peru is not just a cultural destination, we also have a beautiful parks and nature, and we have gastronomy, which is a very good compliment."
Which is why on the Peru stand at the Berlin travel trade show they were mixing up plenty of pisco sour cocktails to go with the seafood dish Ceviche, hoping more Europeans will get a taste for their country of origin in the near future.
Sebastian Saam, our correspondent at ITB, said: "Regardless of political conflicts or economic crisis, ITB has become one of the tourism industry's key events over the 50 years it has been in existence. There are new exhibitors and trends here each year, and almost every country in the world is present at this gigantic travel fair in the German capital."
Regarding the slowdown in demand for international travel, a survey by consultancy IPK International has projected that growth in the number of international trips taken would slow to 3.0 percent this year, down from 4.6 percent in 2015.
Rolf Freitag, founder of IPK, said of 50,000 people in 42 countries surveyed at the start of February, 15 percent said they would either not travel or that they would take their holidays in their home country this year.
However some in the industry are clinging to the hope that bookings will bounce back and that tourists will still travel this summer but are holding off on firm bookings longer than usual due to the uncertain security outlook.
Welcome to #ITBBerlin 2016! Thanks for celebrating 50 years of excellence with us! #itb50pic.twitter.com/1HDfnQXIbU

—

ITB

Berlin (@ITB_Berlin) 9 March 2016