Kosovo: opposition MPs fire tear gas in ninth parliament attack in six months
Comments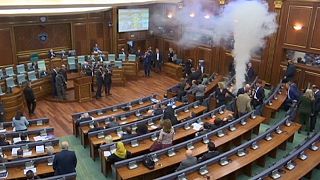 Opposition politicians in Kosovo have released tear gas in parliament in the ninth such protest since September, 2015.
They also aimed a laser beam at one of the ministers and threw water at the prime minister before walking out.
The opposition is demanding snap elections, angry about a European Union-brokered accord the government signed with Serbia last August. The move has fuelled the country's worst political crisis since declaring independence from Serbia in 2008.
Under the deal, Kosovo's ethnic Serb minority has greater local government powers and the possibility of financing from Belgrade.
But the opposition's goal of interrupting the session appeared to have little effect. The first release of teargas provoked a ten-minute pause, but the session continued as usual following the second attempt.
Almost every parliamentary meeting since September has witnessed similar scenes.
Opposition politicians are also challenging the election of President Hashim Thaci, which they consider illegal. The case is being heard at the constitutional court.