Death toll in Tunisian border attack rises to more than 50
Comments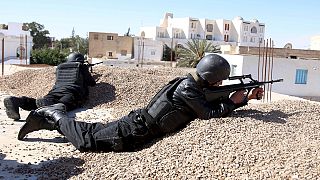 The number of dead in clashes between Tunisian forces and extremists near the Libyan border has risen to more than 50, including dozens of attackers.
The gunman, who crossed the border from an ISIL-controlled area, targeted a police station and military facilities after launching their attack from a nearby mosque.
The incident, in the city of Ben Guerdane, also claimed the lives of seven civilians and 12 members of Tunisia's security forces.
Seven attackers were arrested and gave information that led to the discovery of a weapons cache.
Habib Essid, the Tunisian Prime Minister, said: "The lessons that can be drawn from this attack is that we must always be vigilant, we have to count on our own means, and make sure that we are always ready to react strongly and quickly to any other possible attack."
The Prime Minister added that about 50 gunmen took part in the attack, most of whom, he said, were Tunisians.
Four have so far been identified.
No one has yet claimed responsibility for the attack.