Bloomburg refuses to stand as independent in US presidential election
Comments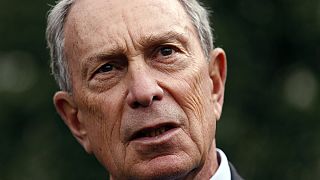 Former New York Mayor Michael Bloomberg has said he will not be standing as an independent candidate in November's US presidential election.
The media mogul had considered it, being alarmed at the unconventional campaigns of both Republican and Democratic would be nominees.
In an open letter on his website he said of Donald Trump: "Threatening to bar foreign Muslims from entering the country is a direct assault on two of the core values that gave rise to our nation: religious tolerance and the separation of church and state."
Bloomberg on why he won't run for president: https://t.co/8bIVy89fFqpic.twitter.com/WUodC0655L

— PolicyMic (@PolicyMic) March 7, 2016
On fellow Republican Ted Cruz he said: "Senator Cruz's pandering on immigration may lack Trump's rhetorical excess, but it is no less extreme. His refusal to oppose banning foreigners based on their religion may be less bombastic than Trump's position, but it is no less divisive."
Bloomberg said he feared Trump becoming president. If he (Bloomberg) entered the race he could split the vote and if there was no clear winner Congress would have to choose. With both houses under Republican control Trump or Cruz would be the likely winner.
The Democratic candidates also came in for criticism. Bloomberg hit out at both Hillary Clinton and Bernie Sanders for criticising free trade as a source of unemployment along with demonising the financial industry.
Formerly a Republican, Bloomberg holds pro-business positions typical of the party. However, he has broken with Republicans on social issues such as gun rights and gay marriage.