The controversial awarding of France's highest honour to top Saudi prince
Comments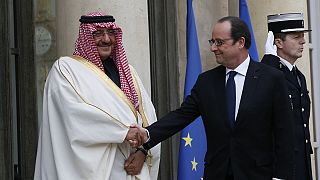 Controversy is mounting after the French presidency awarded the Légion d'Honneur, the country's highest decoration, to Mohammed ben Nayef, Crown Prince and Minister of Interior of Saudi Arabia. The ceremony was held in the Elysée Palace on Friday, March 4, but was only revealed by the presidency on Sunday, March 6.
Critics, such as Bénédicte Jeannerod, head of Human Rights Watch in France, underlined Saudi Arabia's abysmal human rights records. Its regime has put 70 people to death since the beginning of the year, and 153 in 2015, a 20-year high according to AFP news agency. In addition, women in Saudi Arabia remain second-class citizens with limited rights in most aspects of their daily lives.
On the far-right, a National Front vice-president tweeted the decoration was a symbol of France's submission to the conservative Islamic absolute monarchy.
Jean-Marc Ayrault, the French Minister of Foreign Affairs defended the move, explaining on French radio it was merely "a diplomatic tradition […] it has nothing solemn." Ayrault also said he understood the "negative" reactions.
It is not uncommon for foreign heads of state and monarchs to receive the decoration. Among the other controversial recipients are the Cuban president and dictator Fulgencio Batista, and Romanian communist strong man Nicolae Ceausescu. However his was revoked.
France and Saudi Arabia have close ties: they share a vision on the situation in Syria and are allies in the fight against the jihadi group known as ISIS. France is also a major weapons supplier to the Saudi kingdom.