German court meets to consider banning far-right NPD party
Comments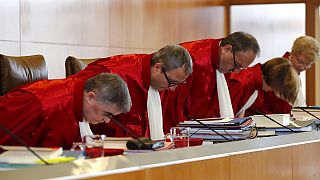 Germany's Federal Constitutional Court has begun a hearing on whether to ban the far-right NPD party.
The session in Karlsruhe is set to last three days. A ruling isn't expected for several months.
The move follows a referral from the Bundesrat, the upper house of parliament, which believes the NPD should be banned because it "wants to destabilise and bring down the liberal-democratic order" in an "aggressive and combative manner".
The German government describes the far-right party as "anti-democratic, xenophobic, anti-Semitic and against the Constitution". But Chancellor Merkel declined to back the Bundesrat's move.
In the country's recent history parties have only been banned on two occasions, both in the 1950s.
A previous attempt to ban the party in 2003 failed.
Some experts and anti-racist campaigners believe it would be a bad idea now, arguing the real battle is against far-right ideology, with the urgent priority being to prevent attacks on refugee shelters.