Apple has petitioned a US court to overturn its ruling ordering the company to help the FBI break into the phone of one of the San Bernadino killers saying the decision violates its constitutional rig
Apple asks US court to overturn San Bernadino ruling
Says the decision "violates its constitutional rights"

FBI

says order relates to a single iPhone
The news
Apple CEO Tim Cook is ready to take the iPhone case all the way to the Supreme Court https://t.co/1zqcyC37f6pic.twitter.com/RNrpgaULG3

— Newsweek (@Newsweek) February 25, 2016
Some things are hard, some things are right and some things are both - this is one of those things
Apple has petitioned a US court to overturn its ruling ordering the company to help the FBI break into the phone of one of the San Bernadino killers.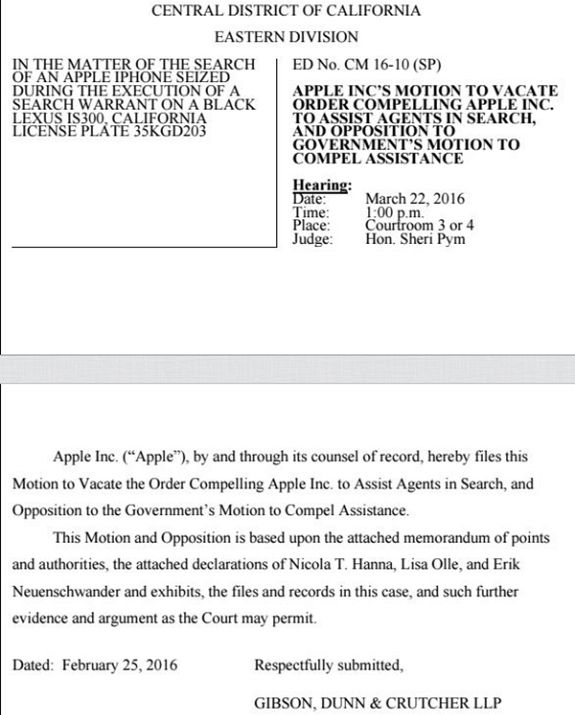 In its petition, the US telecoms giant says the decision violates its "constitutional rights".
No court, it says, has ever forced a company to compromise the security of its products to allow access to personal individual information.
A "back door"?
Apple vs. the FBI: Everything you need to know. #GOPDebatehttps://t.co/pUhx1yYH8Mpic.twitter.com/0zcB565TKm

— Slate (@Slate) February 26, 2016
Apple says the authorities are seeing "dangerous powers" in the ongoing debate that places civil liberties against the needs of national security.
The company also says the software needed does not exist.
A new programme would have to be devised, allowing access to the iPhone's encrypted data.
"If we knew a way to get the information on the phone that we have not already given, if we knew a way to do this that would not expose hundreds of millions of other people to issues we would obviously use it," said Apple CEO, Tim Cook.
Executives also say the court does not have to authority for this request.
The context
Rizwan Farook, Tashfe­en Malik did not support IS on social media: FBIhttps://t.co/HzOV1naRqb#SanBernadinoShootingpic.twitter.com/ewS8nVYEkF

— The Express Tribune (@etribune) December 16, 2015
The FBI says the request is linked to one iPhone in particular.
The device in question was used by San Bernardino killer Rizwan Farook.
He and his wife went on a shooting rampage in December that killed 14 and injured 22.
"I love privacy and, when I hear corporations saying 'We are going to take you to a world where no one can look at your stuff', part of me thinks, that's great, I do not want anyone looking at my stuff, " said FBI Director, James Comey.
"And then, I step back and say, you know, law enforcement, which I am part of, really does save people's lives, rescue kids, rescue neighbourhoods from terrorists, and we do that a whole lot through court orders that are search warrants, and we do it a whole lot through search warrants of mobile devices," Mr Comey added.
The US Justice Department wants Apple to help access encrypted information stored on Farook's iPhone 5C.
This involves writing software to disable its password protections to allow an infinite number of guesses without erasing data on the device.
What they are saying
"This case is about the Department of Justice and the FBI seeking, through the courts, a dangerous power that Congress and the American people have withheld." – Apple court application.
"To place a back door in the iphone, we believe it does put hundreds of millions of customers at risk." – Apple CEO Tim Cook.
"I want to be sure people understand there are no demons in this dispute or the larger dispute. Apple has been very cooperative. We just got to a place where they were no willing to offer the relief that the government was asking for." – FBI Director, James Comey.
"I don't think building back doors is the way to go, so we are pretty sympathetic to Tim [Cook, Apple CEO] and Apple." – Mark Zuckerberg, founder and CEO of Facebook.