Bolivians block Morales from running for fourth presidential term
Comments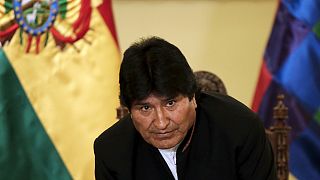 Voters in Bolivia have blocked President Evo Morales from running for a fourth consecutive term, by a very slim margin.
Fifty-one percent have rejected a constitutional amendment in a referendum, according to officials.
It is the first direct ballot box defeat for Morales since he first took the presidency in 2005.
The referendum result also stops Vice President Alvaro Garcia from running again.
As Bolivia's first indigenous president, Morales helped lift millions out of poverty.
But his governing Movement Toward Socialism party has been hit by scandal.
The voted came after claims that Morales may have been involved in influence-peddling.