Yemen struggles to see way out of war
Comments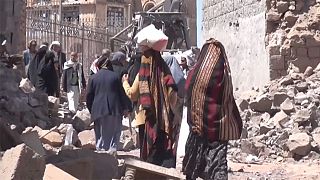 The war in Yemen approaches its 11th month in an atmosphere of mounting civilian casualties, accuses the UN, which says it has the figures to prove it. It is turning into a terrible slaughter.
The UN's Security Council has heard from the Assistant Humanitarian Affairs and Emergency services co-ordinator Stephen O'Brien. He wants an immediate cease-fire.
"Since March 2015, more than 35,000 casualties, including over 6000 deaths, have been reported by health facilities across the country. The United Nations has confirmed that at least 2,997 of those killed and 5,659 of those injured are civilians," says O'Brien.
Saudi Arabia and its allies have blocked Yemen's ports, making the situation for civilians worse. Before the war the country had to import 90% of its staple foodstuffs.
The UN report goes on to claim that both sides in the war consider residential areas as legitimate targets, and that some attacks can only be described as "war crimes". On Sunday one Saudi airstrike killed a family of five members, while another 10 were injured.
The dialogue between the UN and Saudi Arabia has become strained. This follows Riyadh's demanded last week for humanitarian aid workers in rebel-held areas to leave.
The UN refused to pull out, the latest defiance shown the Saudis over the supply of humanitarian aid.
Eighty percent of the Yemeni population suffers from malnourishment and lacks medical supplies. Malnutrition has doubled in the past 10 months, and now affects 1.3 million children.