Major powers agree on truce in Syria "within a week"
Comments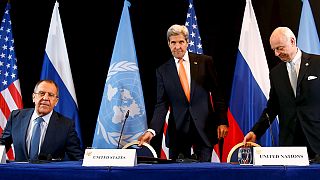 With the US and Russia leading the way the international partners along with the Syrians and groups opposed to President Bashar al-Assad, meeting in Munich, have announced a cessation of hostilities in Syria within a week, the first in five years of civil war. The intention is to fully implement the existing UN resolution on Syria.
It has a dual purpose; to allow UN-monitored humanitarian aid to all areas cut off and under siege, and to give time for a full resumption of stalled Geneva peace talks.
John Kerry said the plight of ordinary Syrians had driven the talks.
"The perception of many members was that the regime of Bashar Al-Assad was violating international law by trying to force surrender through starvation. It is our perception that rather than hurting Daesh, this process is in fact empowering Daesh, to take advantage of the chaos," said US Secretary of State John Kerry.
No agreement was reached on an immediate end to Russia's bombing campaign, but Moscow says it is committed to aid getting through equally.
"We are satisfied that today we managed to agree on the principles of solving the humanitarian problems based on access being provided throughout Syria to all besieged areas without any exceptions. This will be done in an integrated manner, in order not to discriminate against anyone," said Russian Foreign Minister Sergei Lavrov.
A UN task force will ensure equal access to humanitarian aid for both sides.
Syria's main opposition group welcomed the news, but ISIL, al-Nusra and other terrorist groups will find no comfort in the deal. Operations against them will continue, and intensify.
The diplomats will be hoping they have created enough momentum to push everyone to Geneva soon.