New Hampshire: what the pivotal primary means for White House hopefuls
Comments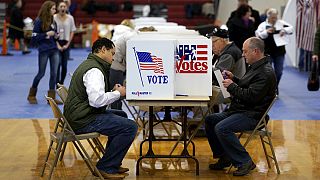 All eyes are on New Hampshire this Tuesday in the race to become the next US president.
It is holding the first primary in the state-by-state process of picking party nominees for the November 8 election to replace Barack Obama.
Democrat Hillary Clinton and Republican Ted Cruz came out on top in last week's Iowa caucuses.
So how do the stakes differ in New Hampshire, and what is the outcome there expected to be?
We spoke to our US correspondent Stefan Grobe, asking him how contenders had changed their strategy between the Iowa and New Hampshire contests.
Stefan Grobe, euronews:
"Well, New Hampshire of course has a different electorate than Iowa and the strategies of the candidates have reflected that.
"Let's take for instance the Republican side. You have the two conservative candidates, Ted Cruz and Marco Rubio, trying to keep a relatively low profile here because there are less born-again Christians, less evangelicals than in Iowa. So these two candidates just need a relatively strong result to go into the big states by the end of the month.
"Take Donald Trump who was humbled by his second finish in Iowa. Now he tries to win big here, to stay on top of the race and stay an important part of the conversation.
"Then of course you have the governors and former governors who all scored very badly in Iowa. They are racing, they are running for their survival. If they don't score big, if they don't score reasonable results here in New Hampshire, they might drop out of the race anytime soon.
"On the Democratic side, we have this very, very strong fight between Hillary Clinton and Bernie Sanders. Bernie Sanders needs a victory here, and he is probably going to have one to stay in the conversation. Hillary Clinton doesn't need to win here, but she needs to show that she can finish strong against all odds here in New Hampshire."
Sarah Taylor, euronews:
In any presidential election, New Hampshire is always a hugely symbolic vote, but the 2016 primary already looks more captivating than the others in recent memory. What is the mood there among voters, with campaign machines and world media descending on them?
Stefan Grobe, euronews:
"Well, there is considerable excitement here in New Hampshire. After all, this is the only time, every four years, that the state is in the national and international headlines and people relish this. So whoever scores badly here in New Hampshire is very likely to drop out of the race later.
"Now, economically, the state is in good shape, in better shape than the average of the United States. But then people are angry, of course, at the way things are conducted in Washington DC. The Democrats are angry because they believe that Obama hasn't been to the left enough, so they feel that they can do better and the Republicans are angry because they are saying that despite huge majorities in Congress, the Republicans let Obama establish his domestic agenda and this is something that they absolutely hate. They want to see a new Republican president undo all the Obama accomplishments."
Latest New Hampshire opinion polls – Democrats

Latest New Hampshire opinion polls – Republicans

Here are some of the latest Tweets from candidates on decision day for New Hampshire.
A Rallying cry from Republicans
MAKE AMERICA GREAT AGAIN!

— Donald J. Trump (@realDonaldTrump) 9 Février 2016
New Hampshire: if you value liberty, #ChooseCruz today! https://t.co/ATtFg7R2my#fitn#nhpoliticshttps://t.co/CbEpCEnLQ9

— Ted Cruz (@tedcruz) 9 Février 2016
New Hampshire, I am asking for your vote. So that together we can win this election. #FITNhttps://t.co/QcwSciYc9S

— Marco Rubio (@marcorubio) 9 Février 2016
A Determined call from Democrats
They're counting on you, New Hampshire. Go vote!https://t.co/KlxS5wNrBH

— Hillary Clinton (@HillaryClinton) 9 Février 2016
New Hampshire, if turnout is high today, I believe we will win. I urge you to come out and vote today. Thank you.

— Bernie Sanders (@BernieSanders) 9 Février 2016