Pension reform protests across Greece as thousands take to the streets
Comments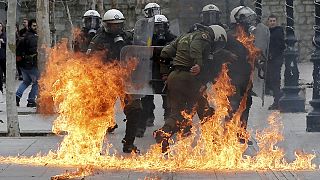 Clashes between police and protesters have broken out in Athens as tens of thousands took part in a general strike to protest against an overhaul of the country's pension system demanded by international lenders.
24-hour nationwide general strike in Athens to protest planned pension reforms losmibica</a> <a href="https://t.co/qtOd1wjw19">https://t.co/qtOd1wjw19</a> <a href="https://t.co/h6b3QtnRBR">pic.twitter.com/h6b3QtnRBR</a></p>&mdash; Getty Images News (GettyImagesNews) February 4, 2016
GREECE – A firebomb explodes beside a riot police member during a massive protest in Athens. By ArisMessinis</a> <a href="https://twitter.com/hashtag/AFP?src=hash">#AFP</a> <a href="https://t.co/W13dOhfADw">pic.twitter.com/W13dOhfADw</a></p>&mdash; Frédérique Geffard (fgeffardAFP) February 4, 2016
Police claim the demonstration was mostly peaceful, until teargas was used to disperse a group anarchists outside the parliament.
General strike in #Athens challenges government as creditors hold talks pic.twitter.com/dvJs6dqwQD

— Nick Thorpe (@NickFT) February 4, 2016
As part of the bailout deal the left-wing Syriza government plans to increase social security contributions in order to avoid cutting pensions.
General #strike in #Athens against #EU policies with #Greece and austerity measures #crisis#greekcrisis#apergiapic.twitter.com/DAmcuALsDV

— Gael Michaud (@PantVal) December 3, 2015
Frustration, anger and uncertainty summed up the mood:"I have been paying social security contributions for over 35 years, I don't know whether I will be getting a pension and now I'm asked to pay three times more than what I used to pay," said one man, while another wants an end to the crippling austerity: "This demo is a message against another bailout deal, against the new social security bill and above all against the things that are destroying this country."
Athens, today. General strike and big protest againsts pension "reform"
Photo via dromografosNews</a> <a href="https://twitter.com/hashtag/Protest?src=hash">#Protest</a> <a href="https://t.co/2SrV3FyDpr">pic.twitter.com/2SrV3FyDpr</a></p>&mdash; Analyze Greece! (analyzeGreece) February 4, 2016
Pension reform is difficult for Syriza in opposition the party campaigned against hitting pensioners in the pocket.
Our correspondent in the Greek capital Stamatis Giannisis was on hand to witness events: "This is the biggest demonstration since Syriza came to power one year ago. And it is a rare occasion that white and blue collar workers join forces in order to voice their anger against the prospect of more austerity that may come in the form of higher social security contributions and lower wages and pensions.