German police arrest two in coordinated terror raids
Comments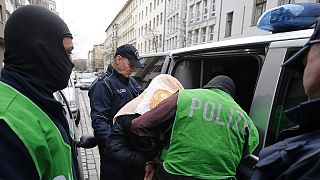 A series of coordinated raids across Germany has resulted in the arrests of at least two people suspected of planning a terror attack in Berlin.
Apartments and businesses were raided in the capital and refugee shelters in Attendorn and Hannover.
A 35-year-old Algerian man, who is believed to be in charge of a terrorist cell, was arrested in refugee accommodation in Attendorn, south of Dortmund. Algerian authorities believe he is a member of ISIL. Both they and German police suspect he spent time training at a militant camp in Syria.
Head of Communications for Berlin Police, Stefan Redlich, gave the following statement:
"We have information on one of the men suggesting he spent time in the war zone in Syria and that he most probably received military training there. That of course is always of great concern to us if someone has received training and has experience in violent acts."
The Algerian is suspected of entering Europe along the Western Balkan route, posing as a refugee. His wife and children were taken into custody.
German media reports suggest he and a 49-year-old man, who was arrested in Berlin, were planning an attack on the capital's busy Alexanderplatz square.
Police are said to have encountered two remaining suspects — a 31-year-old in Berlin and a 26-year-old in Hannover — but did not detain them.
The 26-year-old had been found to have links to an Islamist network in Belgium, according to police. They said he travelled at least once to Molenbeek, Brussels. Several perpetrators in the November, 2015, Paris attacks were closely connected with the neighbourhood.