Passenger jet lands safely after hole blown in fuselage
Comments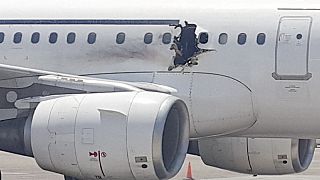 Investigators believe a bomb probably caused an onboard explosion that forced an Airbus A321 to return to Mogadishu and make an emergency landing.
I heard a big bang and then the cabin was filled with smoke
Explosion on flight from Somalia was caused by bomb, sources say: Blast on board Daallo Airlines plane killed … https://t.co/ozA18O2rKA

— marina milosev (@rinamilo) February 3, 2016
One man was killed in the blast on the Daallo Airlines jet on Tuesday.
Two passengers were injured.
Local authorities north of the Somali capital say the body of a 55-year-old man was found in the area.
He is thought to have been sucked out through the hole in the fuselage.
Somalia's deputy UN ambassador Awale Kullane filmed the drama on his smartphone:
"I heard a big bang and the smoke erupted, so we did not see anything for a few seconds."
"It was scary and everyone was a bit traumatised in those few seconds."
Experts have praised the actions of the crew in landing the plane with so few casualties.
There has been no immediate comment from al Shabaab, the Somali Islamist group that is engaged in an insurgency in the country.
It has carried out regular attacks on officials, government offices and civilian sites.
In tweets and video
#Somalia: Plane makes emergency landing at #Mogadishu airport; incident being treated as "suspicious": sources. https://t.co/jJrMIjPfML

— Harun Maruf (@HarunMaruf) February 2, 2016
A plane has made an emergency landing in Somalia after a hole was torn in the aircraft: https://t.co/8iatbudfbppic.twitter.com/kqQTW8MR7R

— 7 News Melbourne (@7NewsMelbourne) February 3, 2016
Explosion in Somalia aircraft injures two onboard, forces plane to turn back https://t.co/p95uBwQRdFpic.twitter.com/xZiyVaZV9W—

DAILY

SABAH

(@DailySabah) February 2, 2016
#Somalia:Daalo Plane makes emergency landing in #Mogadishu after explosion in mid-flight https://t.co/FzeVwCPiJ3… pic.twitter.com/itoEBG64xz— Somalia Latest Photo (@somaliaphotos) February 2, 2016
BREAKING: Investigators believe bomb likely caused explosion on Somalia plane: U.S. government sources. https://t.co/dGPckOVjLj

— Reuters Top News (@Reuters) February 3, 2016