North Korea's neighbours concerned about 'satellite' launch
Comments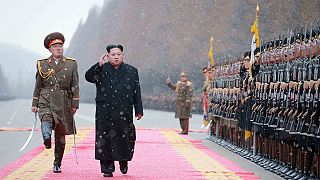 North Korea's neighbours have expressed concern after announcing plans to launch what it called an "earth observation satellite" during the next three weeks.
Beijing, believed to have the most influence over Pyonyang, says it is worried about the plan.
The United Nations sees that activity as a missile programme in disguise.
South Korea also suspects the plan to launch a satellite is a disguise for a long-range missile and is on high alert.
"Our military is closely monitoring North Korea's movement for a long-range missile launch by mobilizing surveillance assets of the South Korea and US combined forces, and we are maintaining our military readiness for any further provocations by North Korea after its fourth nuclear test," said South Korean defence ministry spokesperson, Moon Sang-Gyun.
Japan too considers it a ballistic missile launch with a flight path over islands in the southwest of the country.
Japan is more concerned about falling debris. Its military is ready to shoot down any North Korean rocket.