Australia's High Court rules offshore detention camps legal
Comments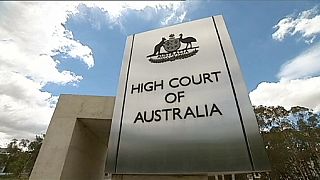 Australia's High Court high court has ruled the country's policy of sending migrants to offshore detention camps is legal.
A Bangladeshi woman had challenged the legality of Australia paying the tiny Pacific nation of Nauru to detain asylum seekers who attempt to reach Australian shores by boat.
The woman had been sent to Nauru in January 2014 but was brought back to Australia in August 2014 for medical help due to pregnancy complications.
She had a child then gained a court injunction preventing her return to Nauru pending her court challenge.
A total of 267 asylum seekers, including 72 children, most of whom came to Australia for medical treatment, have gained injunctions preventing their return to Nauru until the case was settled.
Continues below
nurses fed up with Australia's asylum seeker policy are speaking out. https://t.co/62AzGIrDnqpic.twitter.com/AxJqg6jDv7

— Mamamia (@Mamamia) February 2, 2016
Human rights groups question Australia's morals.
"Now the legality is one thing, the morality is another," said Daniel Webb, from the Human Rights Law Centre. "It is fundamentally wrong to condemn these people to a life in limbo on a tiny island, the stroke of a pen is all that it would take our prime minister or our immigration minister to do the decent thing…"
The detention camp has been criticised by the United Nations for harsh conditions and reports of systemic child abuse.
Prime Minister Malcolm Turnbull defended Australia's controversial policy of sending people seeking asylum protection are intercepted at sea and sent to the camps on Nauru about 3,000 km northeast of Australia, or on Manus island in Papua New Guinea.
Turnbull told the country's parliament: "There is no doubt if we wish to keep our borders secure, if we wish to stop people drowning at sea, if we want to keep our borders safe, if we want to maintain support for our whole immigration policy, if we want the capacity to bring in refugees from Syria, then we need a strong border protection regime…"
A report from Amnesty International last year accused Australian officials of committing a transnational crime after paying people smugglers to return a boat of asylum seekers to Indonesia.
Meet the 37 baby asylum seekers Australia wants to send to Nauru https://t.co/HUsLiXhWp4pic.twitter.com/pvJOwbdWYD

— BuzzFeedOz Politics (@BuzzFeedOzPol) February 2, 2016
Cabinet papers 1990: from little things, Australia's asylum seeker policy grew https://t.co/OC8LMd20H5#politicspic.twitter.com/epD2gnVTdd

— Kaitlin Solimine 老K (@LetsGoKato) December 31, 2015