Myanmar: historic scenes in national parliament
Comments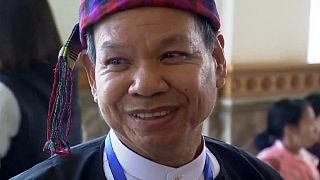 Myanmar transitions to democracy
The first democratically-elected government for 50 years
Military retain control of key ministries
The news
Hundreds of deputies are voting in Myanmar's first democratically-elected government for more than 50 years.
#Myanmar's new parliament starts 1st session, elects speaker of lower house https://t.co/mrJXf0×9fIpic.twitter.com/8GmthCgMQ0

— China Xinhua News (@XHNews) February 1, 2016
New era dawns as Suu Kyi's party strides into Myanmar parliament https://t.co/RwRwAA7pjlpic.twitter.com/ayAeStJ1Qp

—

AFP

news agency (@AFP) February 1, 2016
The majority of those gathered are from Aung San Suu Kyi's National League for Democracy (NLD), which won 80% of the seats in the election in November.
Myanmar parliament begins new session as question of presidency lingershttps://t.co/r1WvjMGIdepic.twitter.com/tYodh00WJt

— Wall Street Journal (@WSJ) February 1, 2016
However, a quarter of seats are reserved for representatives of the military, which also controls key ministries in the government.
The last democratically-elected government was overthrown by the army in 1962.
Transition in Myanmar
#NLD 's Mr Htin kyaw, one of those speculated to be named potential #myanmar president or office holder. pic.twitter.com/dnldgocGhg

— May Wong (@MayWongCNA) February 1, 2016
One of the new parliament's first tasks will be to choose a new president.
Outgoing head of state Thein Sein steps down at the end of March.
Htin Kyaw is tipped by many to be the new leader.
Suu Kyi is prohibited from standing for the role as her two sons are British nationals and not Burmese.
April will be another key date.
The NLD government will officially take office from that month and total military rule will effectively be ended.
Military influence
#Myanmar military appoints familiar faces to parliament https://t.co/sHdvKqoNNzpic.twitter.com/NfXx4sswTu— ThaiPBS English News (@ThaipbsEngNews) January 22, 2016
Myanmar's military still retains significant control, despite the NLD landslide in November's election.
Home affairs, border affairs and defence will continue to be overseen by military officials.
Decades of struggle
Myanmar started moving from half a century of military rule towards democracy in 2011.
Military rulers unexpectedly agreed to hand over power to a nominally-civilian government led by general-turned-reformer Thein Sein.
The military government had called an election once before in 1990, and Suu Kyi's party won a convincing victory.
However, the vote was annulled and the NLD says many of its leading members were harassed and jailed.
Suu Kyi was put under house arrest prior to the 1990 vote. She famously spent 15 of the next 22 years confined to her villa in Yangon.
The daughter of the legendary liberation movement leader Aung San, she was awarded the Nobel Peace prize in 1991.
Commentators say expectations are high in Myanmar.
The 51.5 million population expect a lot from the NLD, from bringing peace to fractured ethnic states to stopping the abuse of Rohingya Muslims by the Buddhist majority in Rakhine.
What they are saying
"It feels like a dream, no one believed the NLD would form a government, even us. It has shaken Myanmar and the whole world." – Khin Maung Myint, deputy
"We are likely to announce the president in the second week of February." – Win Htein, senior party member
Rumors, rumors! U Htin Kyaw tipped as new #Myanmar president, Thuya SM as UEC chair etc etc https://t.co/j6k01XlkJJ

— Alex NyiNyiAung (@Alex_NyiNyiAung) January 18, 2016
"The people hope that every problem will be solved automatically after the NLD becomes the goverment and FDI (foreign direct investment) will come in." – Shwe Mann, outgoing speaker of parliament