Post COP21: Agriculture at heart of climate change hope for Africa
Comments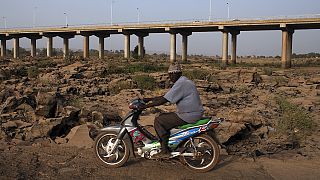 The COP21 deal, agreed in Paris in December 2015 and due to be signed in April 2016, commits to 100 billion dollars in climate finance per year for developing countries by 2020.
At the World Economic Forum in Davos, Switzerland, euronews correspondent Sarah Chappell reported: "Although Africa contributes the lowest share of carbon emissions, it is the continent most susceptible to climate change. Its unique vulnerability is exacerbated by widespread poverty."
The International Fund for Agricultural Development (IFAD), believes that the COP21 commitments for developing countries mark a major step forward.
IFAD supports farming initiatives across the developing world with loans and direct assistance.
"We are really looking at how we can support rural producers, that actually feed the majority of the population in Africa – where the impact of climate change has resulted in higher soil and land degradation, less moisture availability and a lot of risks to farmers," IFAD President Kanayo Nwanye told euronews at Davos.
Interview with IFADnews</a> on <a href="https://twitter.com/hashtag/Africa?src=hash">#Africa</a> <a href="https://twitter.com/hashtag/climatechange?src=hash">#climatechange</a> for our <a href="https://twitter.com/hashtag/Davos?src=hash">#Davos</a> <a href="https://twitter.com/hashtag/WEF16?src=hash">#WEF16</a> ENVIRO special on air <a href="https://twitter.com/euronews">euronews tonight pic.twitter.com/dfqpkclbNO

— Sarah Chappell (@SLeandaC) January 22, 2016
Nwanze stresses that the key obstacles to battling climate change in Africa are largely internal.
"The greatest challenge (in Africa) is having the right leadership at the highest political level – giving full support to agriculture and putting aside whatever financial support they can in their budgets (to support agriculture)," he explained.
Smallholder farmers, many of them women, are the lifeblood of agriculture on the continent. Supporting their growth and development is key to combating the risks of climate change – and also of ultimately achieving food security for Africa.