Russia airdrops 22 tonnes of aid around Syrian town of Deir al-Zor
Comments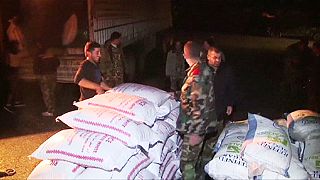 Russia has launched a humanitarian operation in Syria.
The British-based Syrian Observatory for Human rights said a Russian cargo plane accompanied by several war planes has already airdropped supplies to several government-held neighbourhoods in the eastern city of Deir al-Zor.
It will be distributed by local authorities.
"Currently the bulk of the aid is being delivered to the city of Deir ez-Zor which has long been under siege by ISIL terrorists," Russian defence ministry spokesman Sergeu Rudskoy said in a televised briefing. "Today Syrian military cargo IL-76 jets equipped with Russian parachutable pallets delivered 22 tonnes of humanitarian cargo into Deir ez-Zor."
We are concerned about the persistently difficult humanitarian situation in several Syrian towns https://t.co/VEK2KZChEN

—

MFA

Russia (@mfa_russia) January 15, 2016
UNICEF

confirms severe malnutrition in children

Meanwhile the UN children's fund UNICEF confirmed severe malnutrition among children in the besieged Syrian town of Madaya.

Local relief workers reported 32 deaths from starvation in the past month.

UN Secretary General Ban Ki-moon condemned the use of starvation as a weapon of war in the conflict.