Oil crash could mean a litre of petrol will be cheaper than a bottle of mineral water
Comments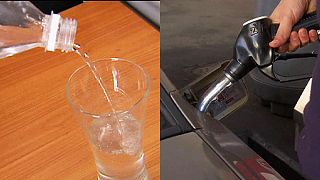 Fed up with the constant talk of tumbling oil prices? Let's talk water instead. Let's invert that old saying and pour water on troubled oil times.
Supermarket bottled water, that is for it appears we are heading for what one respected organisation calls "the bizarre time" when you will stop off at your local supermarket and pay more for a bottle water than a litre of petrol.
Of course it could be some way off but the RAC's calculations are based on petrol falling to 86 pence a litre in the UK driven by crude oil trading at around 10 dollars a barrel. That's the latest all-time-low predicted by investment bank Standard Chartered. Oil last fell close to that mark in 1998.
This is how the comparison with petrol, mineral water, Coca-Cola and oil looks at the moment:
So petrol cheaper than water? Here's a thought…….
Maybe RAC is right that petrol could become cheaper than bottled water – but how often do you buy 50 litres of water?

— Simon Gompertz (@gompertz) January 14, 2016