Venezuela's opposition takes control of Congress
Comments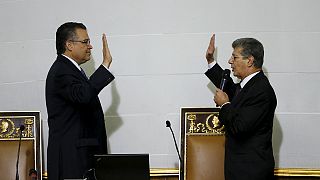 Venezuela has sworn in a new head for its Congress on the day the country's opposition parties took control of the assembly for the first time in 16 years.
One government and three opposition members were suspended because of alleged electoral irregularities and were not allowed to take up their seats.
But even without them, it is believed the opposition will have the critical two-thirds majority needed to challenge the government of President Nicolas Maduro.
Fifty-four pro-government and 109 opposition assembly members were sworn in for a five-year term.
The swearing in of the new congressional head was witnessed by the wives of some opposition leaders who have been jailed by the Socialist government.
Despite both sides trading accusations of corruption, the new Congress chief, Henry Ramos laid out the opposition's agenda.
"To recover the autonomy of the legislative branch, the Amnesty and National Reconciliation Law, and for us to look for, in a six-month period starting today, a constitutional, democratic, peaceful and electoral way out in order to put an end to this government."
Venezuela opposition takes control of Congress in rowdy session https://t.co/mM8Bn5dyqGpic.twitter.com/Ot2pAnh222

— ReutersVzla (ReutersVzla) January 5, 2016
The ruling Socialist deputies immediately walked out. Their party and that of President Nicolas Maduro now find themselves in the minority in Congress after "last month's heavy defeat"http://www.euronews.com/2015/12/07/maduro-accepts-defeat-after-historic-venezuela-election-result/.
Outside, voters were as divided as their MPs as both sets of supporters held rallies near the single-chamber assembly.
The Democratic Unity coalition won its two-thirds congressional majority amid a worsening economy. A power struggle is now anticipated with President Maduro who accuses the opposition of wanting to roll back social programmes created by the late socialist President Hugo Chavez.
Venezuela opposition takes over Congress https://t.co/l4F7Lvd7VDpic.twitter.com/WKsV9bYlIQ

— Al Jazeera America (@ajam) January 6, 2016