London's New Year's Day Parade marks 30 years
Comments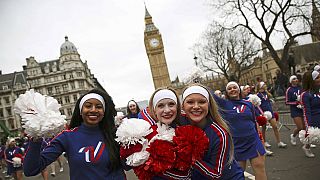 Marching bands, cheerleaders and acrobats helped mark the 30th year of London's New Year's Day parade.
More than 8,500 performers from 20 different countries joined in along a route through the capital.
The organiser started the parade as he wanted to take his children out on New Year's Day but discovered museums shops and restaurants were all closed.
More than 50,000 spectators watched the free event which this year had a magic theme.