Fireworks and festivities usher in 2016 around the globe
Comments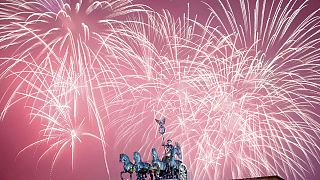 The start of 2016 has been celebrated in style around the world.
In Paris, the Champs Elysees was at the heart of the festivities, amid heightened security.
The usual fireworks display was cancelled and a video performance was shown instead.
Across the Channel, in London, thousands lined the banks of the River Thames as the night sky was filled with fireworks.
The London Eye provided the backdrop for the stunning display.
All eyes have been on the sky in Moscow too. Crowds gathered along the Moskva river to see the colourful celebrations, as Russia welcomed 2016.
Egyptians have also been celebrating the new year with a massive fireworks display, with the backdrop of the ancient pyramids.
Australia was among the first to see in 2016. In Sydney, more than a million people gathered in the Harbour area to enjoy the annual fireworks extravaganza.
There were more colourful sights and sounds in Beijing, as China celebrated the start of a new year.
In reclusive North Korea, there were no fireworks. But there was a special televised address.