2015 a year of unprecedented misery for ordinary Syrians
Comments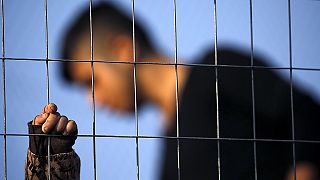 For the millions of Syrians displaced by conflict, 2015 was a year of unprecedented misery.

Syrian refugee camp in Nizip, Turkey; over 30,000 Syrian refugees are living there; photo: @JohnStanmeyer#refugeespic.twitter.com/GFY8raLsjA

— Omniscjencja (@omniscjencja) December 10, 2015
For those Syrian refugees exiled in Turkey there is only one wish on their New Year list.
Mune Mohammed fled her homeland: "We hope for better days, we hope the war will end for all Syrians. We hope all countries will come together to end this conflict. When the war is over we want to go back to our country.''

Turkey now world's biggest host of refugees. Pics of Nizip 1 camp where people live with dignity amidst desperation pic.twitter.com/eI5krYJqNU

— Danny Sriskandarajah (@civicusSG) November 11, 2015
As many as two million Syrians have crossed the border to seek sanctuary in Turkey and for those caught up in the exodus optimism is in short supply.

Today I was at the refugee camp in Nizip with Syrian kids.Turkey hosts 200 000 refugees at camps like this @euronewspic.twitter.com/4nkbHdxWiK

— Bora Bayraktar (@Bora_Bayraktar) September 8, 2015
Mohammed el-Hassan sees no indication that the war will end soon:
''Every year it's getting worse. As the years go by it's getting worse, and worse. If God allows, 2016 will be better. We welcomed the New Year with rain, I hope it will get better for us, and we can return to Syria."

All around me Became destruction Stop killing us We are not terrorists #Syria#Russia . pic.twitter.com/2ZU9N5Tjrm

— ســــلــــطـــان (@Sultan___sa) December 19, 2015
The Syrian conflict has prompted the worst humanitarian crisis, since the Second World War and the violence and suffering shows no sign of ending.