Counting underway after peaceful CAR election
Comments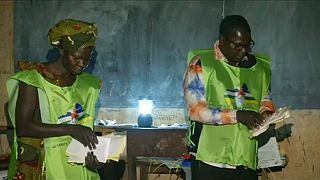 Counting is underway in the Central African Republic after an election which voters hope will end a period of Christian-Muslim violence that has cost thousands of lives.
The vote, for the presidency and legislature, passed off peacefully, with many voting after polls closed because of long queues at polling stations.
Former prime minister Martin Ziguele is one of 30 presidential candidates, and has the backing of the anti-Muslim guerillas.
Another leading candidate is another former PM, Anicet-Georges Dologuele, but since the 2013 taking of the mainly Christian country's capital, Bangui, by Muslim Seleka rebels from the northeast, the country has been in uproar.
Seleka excesses led to the rise of the anti-Muslim, or "anti-Balaka" Christian militias,
and bloodshed followed. The Seleka left Bangui and the presidency in 2014 and withdrew to the northeast, which is no longer effectively under government rule.