Rajoy still hoping for Spanish coalition
Comments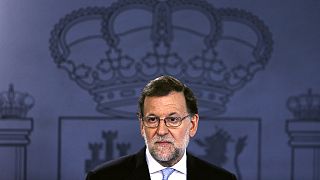 Spain's acting prime minister says he's still hoping to build a broad coalition government – despite being rebuffed by both the Socialist Party and the anti-austerity party Podemos.
Rajoy's populist People's Party won the country's December 20th election, but failed to secure a majority.
"A wide spectrum government where we can agree, because we can, on the fundamental issues is going to generate confidence, this is evident," Rajoy told reporters after Tuesday's weekly cabinet meeting. "It is going to generate confidence here and abroad to investors and in markets, and will generate confidence for the Spanish (people), because it would be a government with a majority that could carry out, consensually, the reforms that are needed without anyone imposing them on anyone."
Socialist leader Pedro Sanchez dashed all hope of a left-right coalition last week when he vowed to reject any pact with the People's Party.
Podemos leader Pablo Iglesias led his party to a strong third place finish. He says he's open to an alliance with Sanchez but will not go back on his promise to hold a referendum on Catalonian independence. And that's a deal breaker for both Sanchez and Rajoy.
The People's party has 128 seats, or 28% of the vote – well short of the 175 needed to govern alone. The Socialist Party won 90 seats, or 22%, while Podemos was close behind with 69 seats and over 20% of the vote.
The party leaders have until March to find consensus. If not, a new election will be held.