Taliban captures more ground in Helmand, Afghanistan
Comments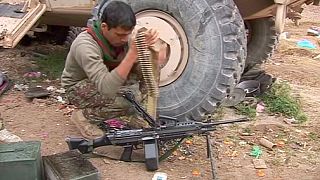 The Taliban has captured more ground in Afghanistan's Helmand province after months of heavy fighting.
Helmand is where most of the world's lucrative opium crop is cultivated.
As fresh supplies of ammunition make their way to Afghan forces battling the Taliban, many locals from Sangin have fled their homes.
"The Sangin district bazaar has been closed down and the Taliban are present there," explained Rahmat Ullah who fled the town. "Afghan security forces are inside the police headquarters. There is heavy fighting in the district and residents leaving their homes."
Sangin is the latest Helmand district to fall to Taliban control, denting hopes that Afghan forces would be able to fight on alone after international troops pulled out.
One year on, the region risks being overrun by the Taliban because of confusion, corruption and mismanagement in Afghan forces.
Some units are said to be under-strength because of so-called ghost-troops. Deserters who are not reported so that officials can pocket their salaries.